P84
P84® HT for Firefighter Gear
Polyimide fibres for Personal protective equipment (PPE)
Evonik's high performance P84® HT fibers can be used to construct garments that deliver some of the most valuable benefits for personal protective equipment (PPE) today.
Enjoy thermal protection at less weight with P84® HT polyimide fibers
P84® HT's unique shape makes it possible for your next-to-skin protective clothing or personal protective equipment (PPE) to assure full-battle protection by providing an excellent barrier layer that fends off those harmful particles while maximizing air flow at the same time.
Textiles using P84® HT fibers have the amazing ability to allow skin to breathe while battling intense heat and the surrounding environment. It allows air to flow freely, supporting your body's natural cooling system and reducing the threat of dangerous heat stress for firefighters and other extreme temperature environment professionals.
P84® HT features outstanding insulation properties, breathability and a pleasant feel against the skin. With up to 30 percent less weight than aramid fibers, Evonik's high-performance fiber is the new material of choice for protective clothing such as hoods and gloves or as a material component in highly technical textiles for personal protective equipment (PPE).  
Protect your skin from harmful particles & lighten your load while staying cool. The benefits are not only from the lighter weight, lowering heat stress, but also preventing threats to skin from exposure to dangerous particles. Harmful particles that circulate in the air creep through protective clothing. These particulate contaminants can cause skin irritation and damage, long after the battle is over.
P84® HT FIBER CERTIFIED ACCORDING TO STANDARD 100 by OEKO-TEX® FOR SKIN CONTACT
OEKO-TEX® has certified Evonik's P84® HT fiber according to Standard 100 for skin contact applications. The community of currently 18 neutral testing and research institutes from Europe and Japan classified the high-temperature fiber as harmless to health.
The Standard 100 label from OEKO-TEX® confirms that all components of the respective product have been tested for a total of 100 harmful substances and classified as harmless to health. The list of criteria includes carcinogenic and allergenic dyes, formaldehyde or DMF, and numerous regulated and non-regulated substances that could harm human health.
Further information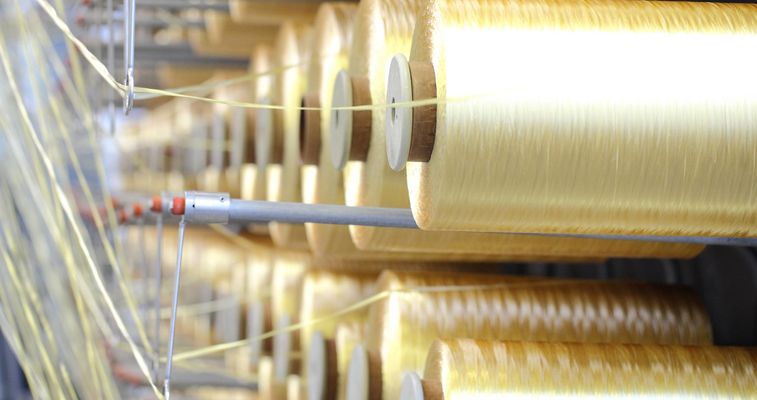 Evonik launches new polyimide fiber on the market
Evonik has developed a new generation of polyimide fibers for the rising demands of the industry. The new product, brand named P84® HT, is distinguished by improved mechanical stability and flexibility at continuously high operating temperatures-